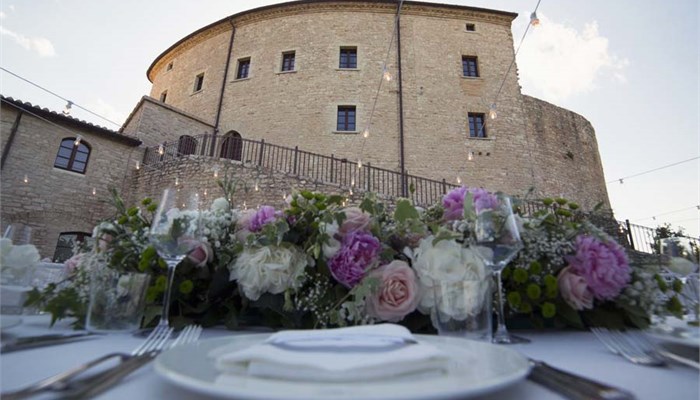 If you are on the search for the perfect wedding location – the one which tells about you, the one which touches you and combines romanticism and beauty, architecture and history – this is the place for you. This is a place with a soul, surrounded by enchanting nature and it would be the perfect background to live a special wedding with your most beloved ones.
Naro Castle conveys all these feelings thanks to its millenarian history written on this rocky upland, thanks to the green nuances of the surrounding hills, thanks to the sky in which glances are lost and thanks to the tasteful and well-groomed rooms.
To celebrate your wedding day in Naro, among the silent and peaceful nature, means to give shape to a dream which will remain in your memory forever. In the warmer time of the year, the enchanting gardens allow to host from the most intimate ceremony to the richest of guests one, providing a plein air location in the middle of the blooming nature.
Naro Castle is an evocative and elegant location and its centennial history perfectly combines with a modern concept of accommodation able to satisfy the most demanding requests.
Our reliable partners are professionals in the field of wedding ceremonies and they will provide the proper attention to every detail of your special day: from planning to catering, from banqueting to the most original and customised set-up.
A staff of professionals will take care of your wedding day in Naro Castle starting from scenic design, music and decorations and passing thorugh the arrangement of locations, logistics and menu proposals, with innovative and original ideas able to meet your guests' taste and yours. A complete high-level service in the sign of charm and elegance.
Naro Castle rises on an uneven upland dominating the valley of Candigliano river. It is situated at 417 meters a.s.l. in the district of Cagli, in the north of the Marche, right in the heart of Italy, where the Marche, Umbria, Tuscany and Emilia Romagna meet. It is not far from important artistic cities like Urbino (28 km), Pesaro (61 km), Gradara (58 km), Gubbio (44 km) and Assisi (97 km). This ancient dwelling is surrounded by nature and it rises in a peaceful uncontaminated environment.
Request information for weddings and events:
If you would like to organize a wedding or an event at the Castle and you want to receive an estimate or further information, do not hesitate to contact us: we will be glad to answer your questions and guide you in the choice of the best solution for your needs. You can also contact us by phone to arrange an appointment to have an inspection of the Castle and better discuss the right solutions for your needs.
Click HERE for contacts.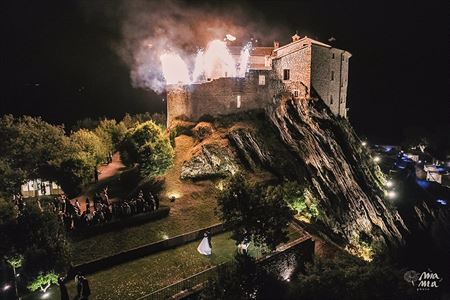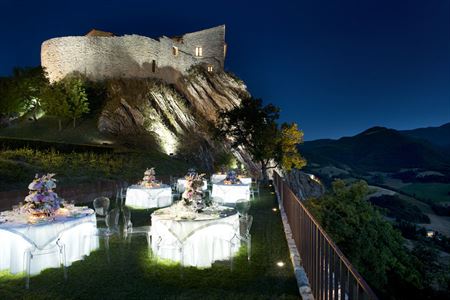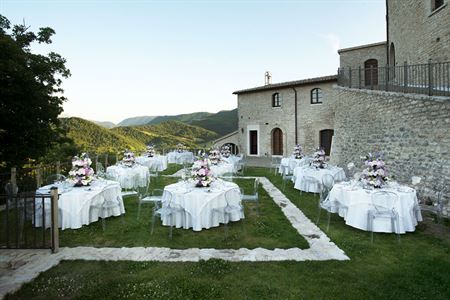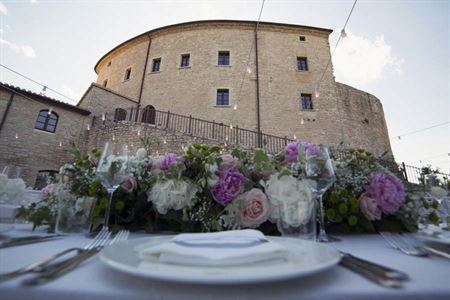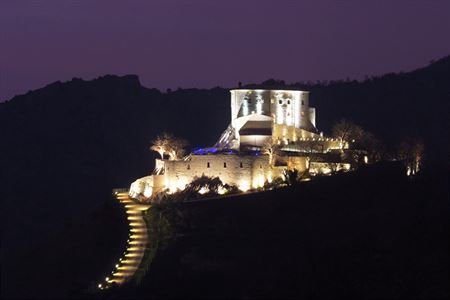 The Rooms: the elegance of Naro Castle is expressed by the well-refined indoor spaces. Each room has its own original style, but they all have in common a welcoming and refined atmosphere. They all are meditative, intimate and cosy spaces, with breath-taking views on beautiful hills and valleys. Decor has been chosen to reflect the soul of this place where past and present coexist in perfect harmony.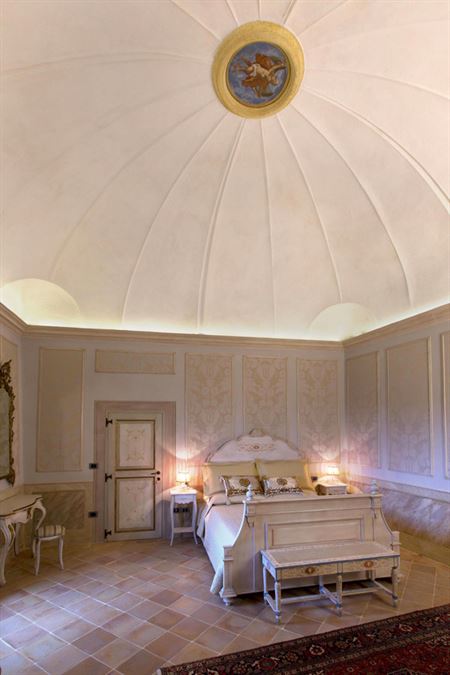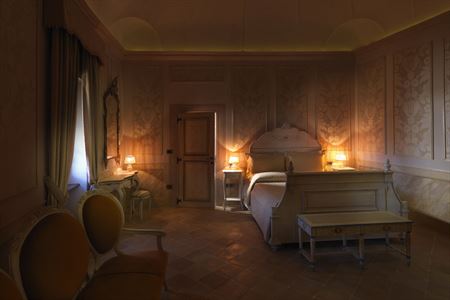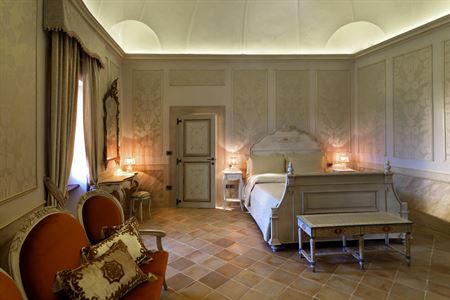 Wellness:Wellness areas of Naro Castle are reserved for our guests staying in the Castle. These areas are entirely dug in the millenary stone of this extraordinary territory and they are a natural and welcoming paradise where to enjoy relaxing moments. The wellness path offers a relaxing bath in the warm water of the intimate pool with jacuzzi and waterfall. In this warm place, connected to water also in ancient times, the millenary rocks are nice companions of this unique and relaxing experience. Walking through the higher garden, you can reach another welcoming place where to enjoy Finnish sauna and Turkish bath. Both areas are provided with relaxation rooms where to taste excellent infusions. Our guests will be provided with a wellness kit composed by bathrobe, slippers and swim cap.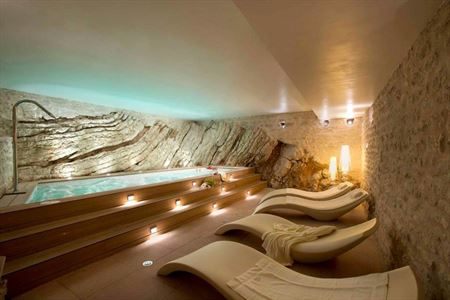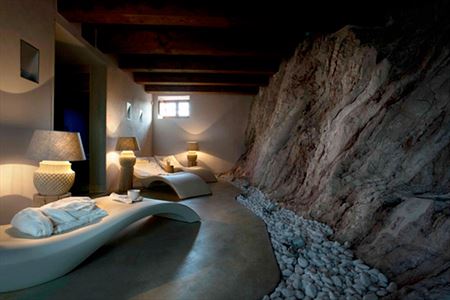 EVENTS: Naro Castle is an extremely original location where to organise a private, cultural or business event. It could be a wedding, or a business meeting, or the launch of a new product, or an exhibition, or a full-immersion-course. In any case the Castle is a versatile location able to add value to your event providing a unique and touching experience. Both outdoor and indoor spaces can be prepared according to your needs. Your convivial moment or business meeting will be enriched by the beauty of the nature surrounding Naro Castle and by the innate value of this ancient and peculiar Dwelling. Our professional event planners will support you in the best way in order to successfully realise your project.
PRIVATE EVENTS: Weddings, private parties, anniversaries, hen parties, bachelor parties, recurring events, graduation parties, engagement parties, marriage proposals, baptism parties, family holidays.
CULTURAL EVENTS: Exhibitions, concerts, conferences, book launches, theatrical performances, photo shoots, film sets, music videos.
BUSINESS EVENTS: Business meetings, business dinners, product launches, Gala events, full-immersion-courses, team building.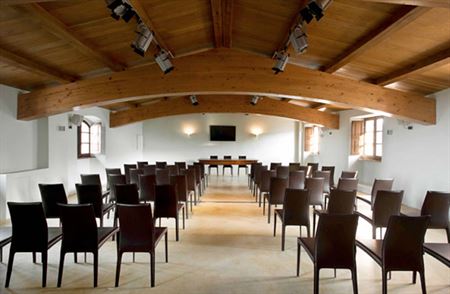 THE ASSEMBLY HALL: It is a great and versatile hall, located in the Forepart of the Castle, next to the entrance of the Dwelling and it has a capacity of 100 people. The peculiarity of this hall is the glass and steel staircase from which it is possible to glimpse a part of the underlying wellness area. It can be reserved for private and business events, but also for conferences, product launches, exhibitions and vernissages. It has a good lighting thanks to the many windows overlooking the valley and an excellent acoustics. It is provided with all the equipment necessary for business launches, projections, speeches and it is also a pleasant location for private banquets.